Peri-Natal Physiotherapy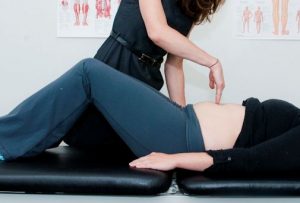 If you are planning to get pregnant, currently pregnant, or have recently had a baby, seeing a physiotherapist is a great way to prevent, manage, or recover from the aches and pains that are often associated with pregnancy, labour, and delivery.
Too often women think of pelvic pain, discomfort during intercourse, leaking urine and "mummy tummy" as normal problems that they can expect after baby. These issues may be common, but they are not normal.
Your physiotherapist can help you with the following problems associated with pregnancy and the post-partum period:
• low back pain
• pelvic pain
• hip pain
• thoracic pain
• hand, wrist, shoulder pain
• neck pain
• musculoskeletal discomfort associated with baby care, breast feeding
• blocked ducts and mastitis
• tingling, pain, muscle weakness due to nerve damage
• diastasis rectus abdominus ("mummy tummy")
• posture impairments
• incontinence (bladder or bowel)
• painful intercourse
• vulvodynia, vaginissmus
Your physiotherapist can also give you advice about appropriate exercises during pregnancy, what you can do during pregnancy, labour and your delivery to help improve your post-partum recovery, as well as how to safely resume an exercise routine after the baby comes. For those interested in Pilates, we work closely with our Movement Studio Clinical Pilates instructors to develop an appropriate peri-natal Pilates program.
Even if you are symptom-free, it is recommended that new moms come in for a post-partum screen roughly six weeks after they have delivered (vaginally or by C-section). Your physiotherapist will check you for diastasis recti, prolapse, and pelvic floor dysfunction, and will educate you on what you can do to recover quickly and return to the activities you love.