Massage Therapy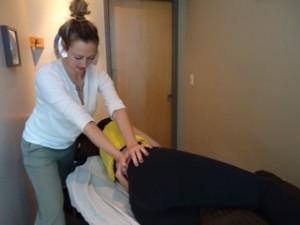 Kor Clinic offers registered massage therapy with a focus on myofascial release and visceral manipulation.  These techniques are combined with a commitment to provide clients with individualized treatments to discover and resolve the underlying reasons why they may have pain and dysfunction in their bodies.
At Kor Clinic, massage therapist collaborate with clients and other health practitioners to balance soft muscle tissues, improve body mechanics and movement through strength, flexibility, and postural awareness with the goal of restoring functional pain-free living.
Our practice may focus primarily on treating patients with sports injuries and postural imbalances, but our techniques are also effective for those suffering from a wide range of chronic pain, including: back and joint pain, digestive and reproductive complaints and the discomfort and tension caused by traumatic & surgical scarring.  Through a combination of consultation, education and manual therapy, our registered massage therapists will work closely with you to develop a healthy treatment plan and escape the daily frustration caused by chronic pain.
Rates:
60 min – $110      (HST is included)
90 min – $165   (HST is included)
Kor Clinic massage therapy is owned and operated by Alisha Hoover