Our Approach to Physiotherapy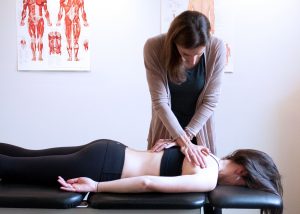 Each Physiotherapist at Envision has developed a unique skillset, but we all follow the following fundamentals. We assess each client individually with no overlapping clients booked, ensuring the focus is on you. We don't simply treat the pain or resultant injury. We look at posture and movement pattern biomechanics – looking at fundamental roots of injury. This ensures a long term recovery and success.
All physiotherapists at Envision Physiotherapy have a solid foundation in Manual (hands-on) Therapy. Most have their intermediate or advanced manual therapy certification. Envision also has a number of Australia trained physiotherapists with a manual therapy focus.
Most Envision physiotherapists have Dry Needling training as well, from Intramuscular Stimulation, to Trigger Point Dry Needling, to Acupuncture.
Beyond this, Envision physiotherapists collectively have specialized training in sports physio, pelvic floor rehabilitation, visceral manipulation, neural manipulation, concussion management, vestibular and balance rehabilitation, and we are always pursing more.
And lastly, at Envision Physiotherapy, we don't rely on electrical modalities (machines). Our focus is on actual physical therapy.