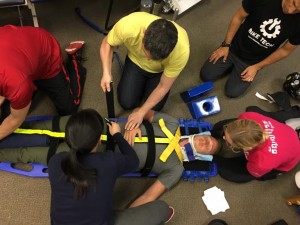 Last week we held another First Responder for Sports course at Trailside Physiotherapy's Coquitlam clinic. The course is primarily targeted for sports physiotherapists, but it is open to other practitioners who focus on the sport and team populations as well. This time around we had an excellent group of sports physiotherapists, mostly newer graduates, and one chiropractor. It was great to draw upon the experience of some of the senior sports physiotherapists, as well as see the drive and enthusiasm of the newer sports physios as well. In the course of 3 days I witnessed their skill level increase dramatically.
To clarify, a sports physiotherapist is not just a sport therapist. They are fully qualified physiotherapists who specialize in sports. This means they went to an accredited university and completed a masters program, has hundreds to thousands of hours working with teams, and is qualified to work at the Olympics, major games and other world competitions.
Two of the experienced physios in this course were the owners of Trailside Physiotherapy, Kevin Stoll and Francisco Gatchalian. I've known both these guys for many years, from university, working with teams on the snow and ice, from the local to international levels, as well as working together in clinic. It was an excellent weekend, and the new batch of sports physios coming up should be a great asset to all our athletes, from the recreational to elite levels!
– Harminder (Harry) Toor
Share